Meet Our Team
Meet Our Assessors
It's always nice to be able to put a face to a name. That is why we have got each of our assessors to tell you a little bit about themselves. There will be more profiles coming soon, but for now, here's the Brooks and Kirk Assessor Training delivery team...
Steve Kirk 
(CAVA and IQA Assessor)
I have spent the last 11 years here at Brooks and Kirk. During that time, I have predominantly been involved in training assessors and IQA's. Quality control is something that I feel very strongly about. In the past 'near enough' has been good enough. Thankfully, those days are behind us and everything is now focused on ensuring on the quality of the learning experience not just passing qualifications. I will be on hand to help support you through your qualifications.
email: steve.kirk@brooksandkirk.co.uk
Tel: 01205 805155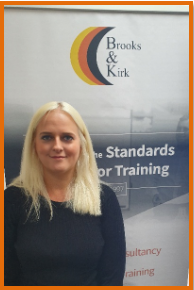 Laura Kirk
(CAVA and IQA Assessor)
After leaving the sixth form, I went on to do a degree in Accounting and Finance. Since then, I have gone on to become an Assessor and an IQA at Brooks and Kirk.  Training up NVQ assessors and IQA's is my forte. I will ensure that it's not a case of 'you've done just enough' to pass your assessor course. I will ensure that you gain the necessary knowledge and develop the skills you need to become a quality assessor. I will do my very best for you to make sure you achieve your qualifications and will support you in any way I can.
email: laura.kirk@brooksandkirk.co.uk
Tel: 01205 805155 
Dan Kirk
(Education and Training and CAVA Assessor)
Hi, I am Dan. I am the primary developer for the Brooks and Kirk virtual Learning systems including web maintenance and resource design. I am a secondary school trained ICT and Computer Science teacher mainly teaching in a school with high social deprivation. I joined Brooks and Kirk in 2014 and am now the main dogs-body for anything IT related. And yes, I do have to say "Have you switched it off and on again?" If you have any questions relating to the learning systems, I am the primary point of contact. I look forward to reading your work and seeing you in person very soon.
email: dan.kirk@brooksandkirk.co.uk
Tel: 01205 805155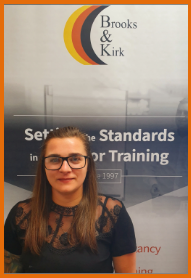 Anzela Turkina
(CAVA Assessor)
Hi, my name is Anzela. I have recently joined Brooks and Kirk as an Assessor. Coming from the background of a busy employment company, I have got experience in a business administration and compliance management, and currently, am working towards a Business Management diploma at university. Although I am new to the company, I can assist you with all enquiries related to your CAVA course or guide you in the right direction for anything else.
email: anzela.turkina@brooksandkirk.co.uk
Tel: 01205 805155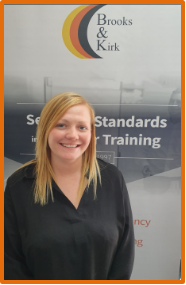 Cathryn Butler
(IQA and CAVA Assessor - Part-Time)
My name's Cathryn, I have been working at Brooks and Kirk for two years. I have been working as an assessor for seven years, previously in Health and social care delivering levels 2-5 apprenticeships. I have worked both full-time and as a freelancer which gave me the flexibility I needed to also spend time with my two daughters, Isabella and Elissa.
email: cathryn.butler@brooksandkirk.co.uk
Tel: 01205 805155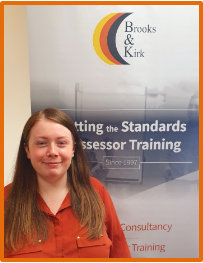 Rebecca McGivern
(CAVA Assessor and Moodle Support)
Hi, I'm Rebecca. I have a background in customer service and I've worked at Brooks and Kirk for several years as part of the sales, admin and finance teams; now I'm turning my hand to assessment. I am a recently qualified CAVA assessor and I shall be involved in the marking of your work. I'll be available for support with your course by phone or email, so I look forward to speaking to you soon.
email: rebecca.mcgivern@brooksandkirk.co.uk
Tel: 01205 805155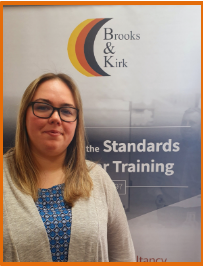 Svajone Tyseviciute (Sav)
(Moodle Support and Administration)
Hi, my name is Svajone (aka Sav), I have been working for Brooks and Kirk for the past seven years.
I started here as a Business Administration Apprentice. After completing Level 2 and Level 3 I became an Office Manager. In the past few years, I have achieved the Level 3 Advice and Guidance qualification and I am currently working toward a Level 3 Management qualification. I am your main contact for any support you require with Moodle system. Please keep in mind I'm not an assessor, but I will try my best to help you with any queries you have.
email: svajone.tyseviciute@brooksandkirk.co.uk
Tel: 01205 805155 
Last modified: Wednesday, 21 October 2020, 10:15 AM